Rev. Christian & Molly Ruch
Christian serves as the rector of Church of the Cross and his responsibilities include preaching, overseeing the staff team, and providing pastoral care. He grew up in Indiana, went to college in Ohio, did seminary in Illinois (Trinity Evangelical Divinity School) and ended up in Minnesota (but he still roots for the Colts…well, actually, he doesn't really care about football, but if he did, he would be a Colts fan). One of his favorite things to do as a pastor is to get together with people and hear about their lives and their interests. He enjoys spending time with his wife Molly and four kids—Aidan, Cyrus, Drew, and Lottie. He also enjoys reading (novels, history, theology, movie reviews), running, traveling to new places, and working obscure cultural references into his sermons.
Molly has loved serving at Church of the Cross since it began in the Ruch's living room. The living room is still used for hosting Newcomer Dinners, planning meetings, cookie exchanges and more. Her focus at church is helping develop leaders and strategize mission, especially in her role as Church Plant Coordinator for the Minnesota Deanery of the Anglican Diocese of the Upper Midwest. Like her husband, she loves to read but they typically don't share books as hers include topics on art (including wallpaper design), architecture and business. Museums are places she goes for both solace and to be reinvigorated, and her four children often accompany her, sometimes willingly. She loves to learn people's interests and connect them to others with the same. She likes the smell of coffee but not the taste, so she'll join you for coffee and have a cup of tea.
Pastor of Youth and Adult Ministries, Priest
Peter loves teaching and encouraging Christian maturity, as well as hanging out and having fun, and these traits work perfectly for him as the Pastor of Youth and Adult Ministries. He received his B.S. in youth ministry in 2006 and his M.A. in theological studies in 2008. He and his wife, Elizabeth (who also loves serving our church's teens and adults), began attending Church of the Cross in 2009, began ministering in 2011, was ordained a deacon in April 2016, and was ordained as a priest in September 2017. Aside from being with his wife, two sons, and newborn daughter, Peter enjoys reading, playing video games, and spending time with friends.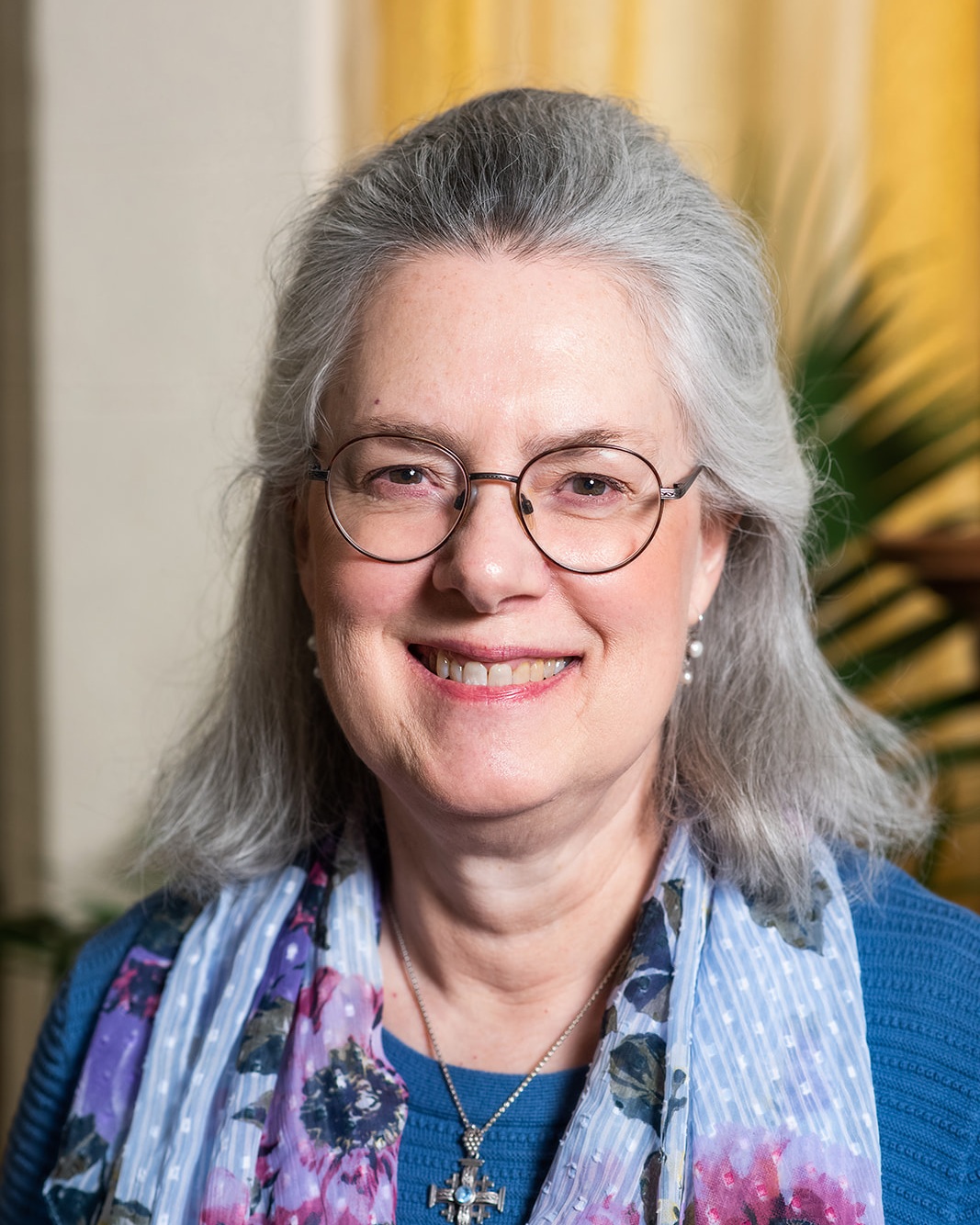 I grew up on a farm with wonderful freedoms, always a pair of dogs to get lost with and several cats who frequently multiplied. Today I love watching everything move in the backyard and have no pets aside from what God brings by; they are either wild or belong to a neighbor. I dream of landscape designs and implementing them step-by-step.
So how did I end up running an office? Wife and motherhood helped hone multitasking; homeownership developed joy in organization & maintenance; sitting behind a desk has always delighted me; I love to talk on the phone and write through a keyboard. After the usual education, I followed my Dad's suggestion of trying secretarial school. To my mild surprise, I took to it. All this, along with the gift of responsibility, has prepared me for this amazing work as Office Manager at Cross. God has given me a precious gift of loving & serving Him here.
Pastor of Children's & Family Ministry
Andrea, Matt, and their 3 children have called Cross home since moving back to MN in 2007. Andrea has degrees in Exercise Science and Oboe Performance, which do not traditionally lead to pastoral work. But through a path of serving on the worship team, coordinating the nursery, then joining the Children's Leadership Team in 2012, she accepted the call to be the Children and Families Pastor in 2017. With a passion and energy for people, Andrea believes there is no higher calling than shepherding and making spaces for children to weekly engage with the Spirit and the Body of Christ. In her spare time, Andrea loves playing music, making jewelry and mostly filling the family calendar full of gatherings of friends and loved ones.
When Justin began attending Church of the Cross with his wife Brittany, they were delighted to experience a community living in the Church's liturgy. Deeply impressed upon by the beauty, worship, word, and table, they were delighted to call Church of the Cross home. Justin received his Bachelor of Arts in Biblical Studies from the Moody Bible Institute and seeks to incorporate God's word in all aspects of life. A deep yearning of his soul is to help others feed on Christ and help develop strong Christian communities. Justin enjoys spending time with his wife and two daughters (Georgia and Madeleine). He is also an avid tennis fan/player, lover of books and bookstores, and a curious cook.
Deacon, Ministry Resident
Josh grew up in southern New Mexico and began the slow journey of growing used to MN winters in 2008. He moved here after some years in St Andrews, Scotland, returning with a Ph.D. (Old Testament), a love for ales, and a devotion to Arsenal Football Club. Josh served as a pastor when first arriving in MN and began attending Cross in 2013 with Bryonie and their kids. Besides serving as a Pastoral Resident at Church of the Cross, Josh teaches in the Fellows Program at Anselm House (U of MN) and at a local counseling center. He loves family bike rides, good food, and good books.
Pastor of Worship Ministry
Andene grew up in the cornfields of southeastern Minnesota where she became passionate about music, the humanities, and ministry. Throughout her time at Bethel University (B.A. History) and then Gordon-Conwell Theological Seminary, these passions turned into masters degrees (M.Div. & Th.M. in Church History & the Arts) as well as a worship ministry position at Gordon College near Boston. While there, she fell in love with the Anglican tradition and intertwined her studies and work with the worship life of the Anglican Church. Eventually, tuning into A Prairie Home Companion just wasn't cutting it and she felt called to return to her Midwestern roots where she met her husband, Sean. These days they live in Eden Prairie where, together with their young son Lincoln, toddler Etta Mae, and new baby on the way, they love to play music, make delicious food, watch good movies, and go on lots of outdoor adventures.
God began preparing Cheryl's heart to be Anglican in 1989 when she and her family lived in England for two years. Coming to Church of the Cross in 2005 was like coming home. Prompted by a passion to see lives transformed by Christ, she studied spiritual formation at Bethel Seminary and completed a masters of Theology in 2004. After the death of her husband John in 2010, Cheryl was ordained as a deacon and began to serve on staff at COTC in 2013. She serves our community through the ministry of prayer, the experience of biblical narrative, small group spiritual formation as well as sanctuary liturgical arts. In 2014 Cheryl and Gerard Pierre were married. They minister together in prayer and in the sanctuary arts. Their lives are full of love for many; grown children, in-laws and grandchildren (35+), as well as those from our community in Hopkins and around the world. They are also really good cooks!
Vestry
The Vestry is a team of leaders at Church of the Cross who work with our rector, Christian Ruch, in giving oversight to the overall mission and work of the church. Their duties include considering and approving ministry decisions and plans which affect the overall church community, preparing an annual budget, reviewing the financial reports of the church, overseeing the care and stewardship of church assets, and praying regularly for the needs of the church. Those considered for vestry are people who have served at Church of the Cross in a variety of functions and have demonstrated a consistent love and concern for the people of our community. The current members of the vestry are Joel Bascom, Elizabeth Carlson, Kara Eggers, Becky Galstad, Sam Hamer, Matt Huston, and Justin Tennison. If you would like to speak to a member of our vestry, please call our church office, 952-933-3686, and we will put you in touch with one of them.